Per essere di qualità una serie deve essere drammatica, solenne, profonda, magari anche un po' cupa, severa? Deve parlare di temi impegnati e importanti? Direi di no. La fantastica signora Maisel è l'esatto opposto.
La fantastica signora Maisel una delle migiori serie TV degli ultimi tempi
La fantastica signora Maisel è, a mio avviso, una delle migliori serie degli ultimi tempi, i premi lo confermano (3 Golden Globe e 16 Emmy Award). Una commedia, leggera, allegra e colorata, che sprizza energia da ogni dove. Nella New York degli Anni Cinquanta, Miriam "Midge" Maisel vede la sua perfetta vita borghese andare in frantumi con il tradimento del marito.
Non tutti i mali vengono per nuocere, e grazie questo scopre di avere un senso dell'umorismo fuori dal comune e una capacità invidiabile, quanto bizzarra per anni '50, di stare sul palco: Mrs. Maisel è meravigliosamente comica.
La fantastica signora Maisel e i set
Non voglio raccontarvi troppo, ma non posso non parlare dei set. Sono a dir poco pazzeschi, grandiosi e splendidamente ragionati in termini di scenografia e design, per non parlare dei costumi: Midge ha sempre la borsa straordinariamente abbinata alle scarpe, e i cappelli! Non dimentichiamo i cappelli! Fondamentali!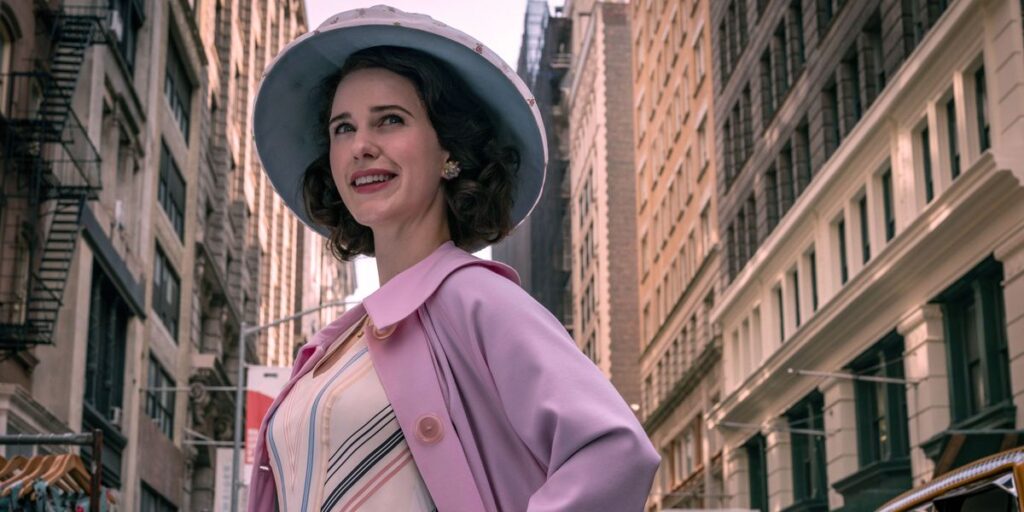 Regia di Sherman-Palladino
Regia, Sherman-Palladino (Una mamma per amica, indimenticabile!), che riesce a far ballare la macchina da presa insieme ai personaggi, in una coreografia da far mancare il fiato. I movimenti degli attori e il ritmo dei dialoghi sono in perfetta armonia e fluidità.
Se proviamo a non essere superficiali e approfondiamo la visione di La fantastica signora Maisel, ad ogni puntata viene raccontato così tanto della condizione femminile dell'epoca, e del carattere della protagonista che è così dipendente dal giudizio e dall'approvazione altrui, che non poteva che trovare una carriera da comica, dove per qualche minuto a serata regala al pubblico un po' di risate, e a se stessa un'iniezione di incoraggiante autostima.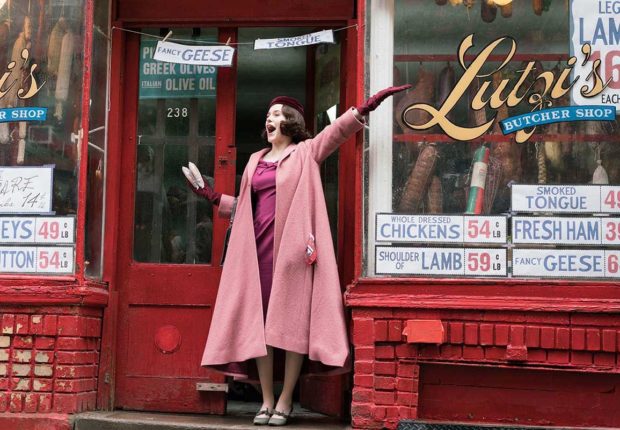 La fantastica signora Maisel e alcune curiosità
Nella serie TV, Midge e Susie pranzano molto spesso al Kettle of Fish Bar. Questo bar esiste realmente ed è famoso. Ha ospitato, infatti, personaggi famosi e musicisti come Bob Dylan. Lo stesso Gaslight, in cui si esibisce La Signora Maisel, è realmente esistito negli anni in cui è ambientata la serie, Jimi Hendrix si è esibito proprio lì.
La costumista di The Marvelous Mrs. Maisel, Donna Zakowska, per realizzare il guardaroba di Midge, si è ispirata alla moda francese degli anni '50, cercando di creare il personaggio sui miti del passato come Grace Kelly, Audrey Hepburn e Mamie Van Doren.
Insomma guardatela!