Open to Meraviglia fa parlare di sé per tutto il globo terracqueo. In questi giorni il web è saturo della Venere di Botticelli che assume le vesti di un'influencer o forse di Chiara Ferragni (chissà?). Onestamente non ne possiamo più e la storia "l'importante è che se ne parli" è al quanto svilente!
La campagna pubblicitaria Open to Meraviglia realizzata per ENIT, prodotta dal Gruppo di Armando Testa ha suscitato non poche polemiche e ha convinto poco!
Inutile dire che, non appena abbiamo visto la Venere con il telefono in mano che si scatta selfie, la prima immagine che ci è sovvenuta è stata quella di Chiara Ferragli agli Uffizi nel 2020… e già all'epoca provocò indignazione!
Open to Meraviglia, la banalità aiuta la comunicazione?
"Speriamo che la Venere di Botticelli diventi molto famosa anche tra i giovani, attraverso questa combinazione tra arte e digitale", dice Marco Testa. "Questo è un modo un po' diverso di rappresentare l'Italia, per andare verso un turismo più giovane", spiega Santanché. 
Non c'è nulla di male nel trasformare la Venere di Botticelli in icona pop, del resto lo è già, e non è la prima volta che un'opera d'arte diviene un'icona. Ciò che dal nostro punto di vista risulta stridente è che si rischia di cadere nel mero stereotipo e nel kitsch.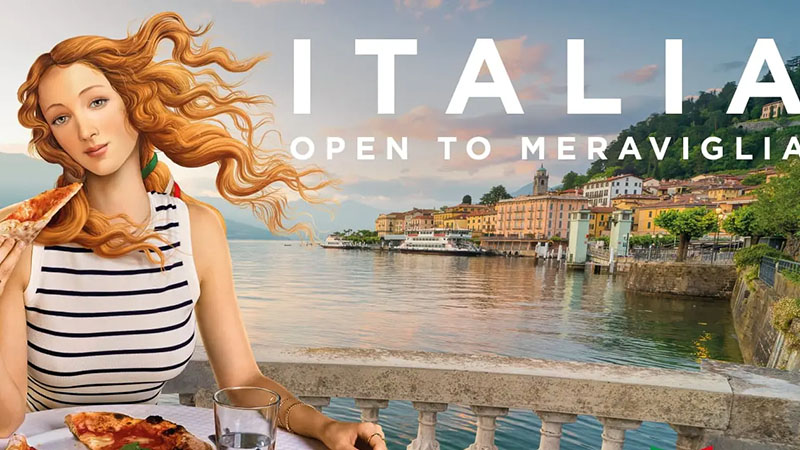 Armando Testa sul Corriere della Sera
Ovviamente, l'agenzia pubblicitaria Armando Testa è nell'occhio del ciclone. Open to Meraviglia ha suscitato molte polemiche e per ringraziare, e togliersi qualche sassolino dalla scarpa, ha acquistato una pagina del Corriere della Sera.
Le chiacchiere non si sono certo sprecate, numerosi gli articoli di giornale, meme sui vari social (esilaranti) fino ad arrivare alla sarcastica replica commissionata all'intelligenza artificiale, esperimento non proprio originale. Fino ad ora l'agenzia di Armando Testa non si era ancora pronunciata. Lo fa con Open to Grazie: è il titolo della lettera sulla pagina del Corriere della Sera acquistata da Armando Testa. Un modo ironico per difendersi. Perché ringrazia?
"Quando una campagna di promozione turistica rompe il muro dell'indifferenza e riesce a dar vita a un dibattito culturale così vivace come quello acceso in soli 5 giorni da Italia. Open to Meraviglia, rappresenta sempre qualcosa di positivo", spiegano i pubblicitari. Dunque, "grazie, perché non accadeva da anni che la notizia di una campagna istituzionale suscitasse una eco di tale portata […] Grazie per le migliaia di visualizzazioni, commenti, meme e per le appassionate discussioni di questi ultimi giorni: ci hanno fatto sentire davvero la più grande agenzia italiana, con un immenso reparto creativo di persone al lavoro sullo stesso concetto.
La Venere di Botticelli in queste vesti non ci piace per niente… ma questo è!
A quanto pare è un successo!
"La Armando Testa ringrazia, e Venere con noi. Erano più di 500 anni che non si parlava di lei così tanto. Se non è meraviglia questa".