Yayoi Kusama è un'artista giapponese (Artista Pois) nata nel 1929 a Matsumoto City, in Giappone. Studia pittura a Kyoto prima di spostarsi negli Stati Uniti a Seattle nel 1957, e successivamente a New York.
Affermò che la società giapponese le stava stretta "troppo piccola, servile, feudalistica e maschilista", per non aver più alcun legame con il passato distrusse tutte le opere prodotte in Giappone.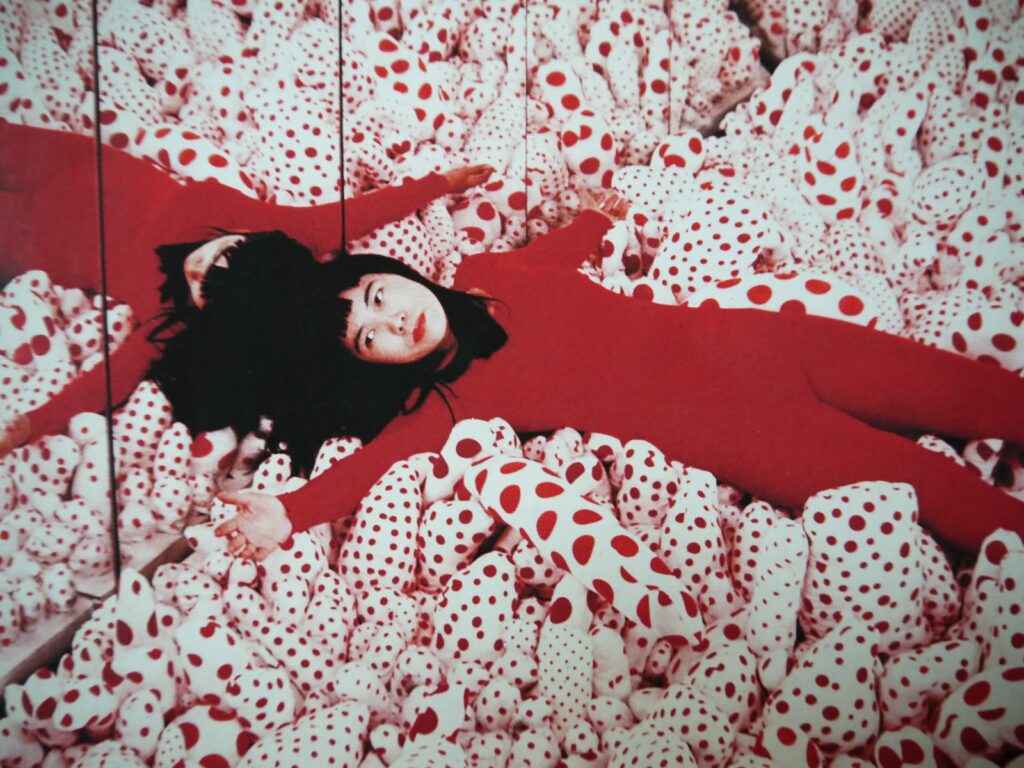 Yayoi Kusama e le Allucinazioni
Kusama è riconosciuta in tutto il mondo per la sua produzione di dipinti ispirati ad allucinazioni e ricordi d'infanzia e di istallazioni come Infinity Mirror Room (1965). Il suo stile è anticonvenzionale, consiste nel moltiplicare in un numero infinito e in maniera ossessiva dei sacchetti pieni di ovatta che raffigurano dei membri. L'artista crea in questo modo campi di escrescenze falliche caratterizzati dall'uso maniacale di pois rossi e oggetti minimalisti che le fanno divenire immagini pop.
"Con un solo puntino, non possiamo ottenere nulla. Nell'universo, c'e' il sole, la luna, la terra e miliardi di stelle. Cercare di capire la filosofia dell'universo attraverso l'arte mi ha portato a perseguire una cosiddetta ripetizione stereotipica"

Yayoi Kusama
Infinity Mirror Room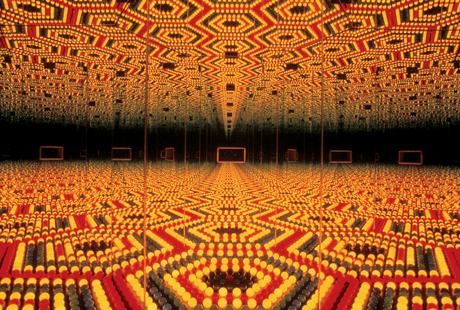 Le Infinity Mirror Room di Kusama sono una serie di opere d'arte, che consistono in stanze cubiche rivestite da specchi e illuminate da una serie di luci, creando un'illusione infinita di spazio e profondità. L'effetto è quello di creare un'esperienza immersiva e coinvolgente per lo spettatore, che si sente completamente avvolto dalla luce e dal riflesso degli specchi.
Yayoi ha creato molte versioni dell'Infinity Mirror Room, ognuna con un design e una sensazione unici. L'opera è diventata molto popolare negli ultimi anni, ed è stata esposta in molte gallerie e musei in tutto il mondo.
I Falli, Opere di Yayoi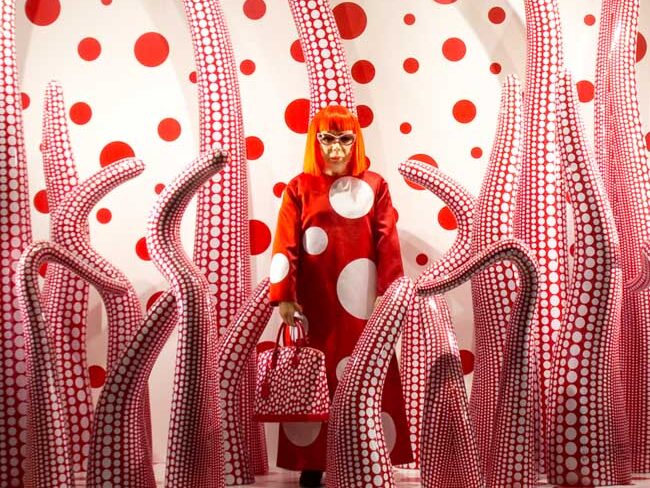 La forma fallica diviene una parodia di sé stessa, tutto l'ambiente diviene indistinto, e ogni cosa viene invasa dai pois e dai bozzoli bianchi. Alcune fra le opere più note sono "Accumulazioni" del 1961, "Aggregazione: mille barche" del 1964 e "Casa di specchi infinita – Campo di falli" del 1965.
In questo modo l'artista giapponese fa immergere lo spettatore nei suoi pensieri più profondi e inquietanti che prendono forma di accumulazioni e ripetizioni ossessive.
Nei primi anni della sua attività ebbe molto successo, ma nonostante questo dovette rientrare in Giappone. Nel 1970, rientrò in patria, perché affetta da gravi problemi mentali che la costrinsero a ritirarsi dalla scena artistica per alcuni decenni.
Yayoi Kusama Oggi
Yayoi Kusama tutt'oggi risiede, volontariamente, all'ospedale psichiatrico di Seiwa a Tokyo. L'artista, nel 1993, riprese a produrre arte: rappresentò il Giappone alla Biennale di Venezia. Un altro anno molto produttivo fortunato fu il 2017: presento' l'opera "Yayoi Kusama: Infinity Mirrors" al Hirshhorn Museum a Washington, D.C., "Yayoi Kusama: Life is the Heart of Rainbow" alla National Gallery di Singapore e altre due esibizioni personali al David Zwirner di New York.