Alla Cappella Brancacci prende avvio la seconda parte dei restauri, ma con un gel sperimentale e un modello di monitoraggio rinnovato. San Pietro che risana lo storpio e il Miracolo di Tabitha di Masolino le nuove porzioni di affresco che saranno messe in sicurezza.
Il progetto è stato possibile grazie alla collaborazione tra Comune di Firenze, Soprintendenza Archeologia, Belle Arti e Paesaggio, Cnr-Ispc e Opificio delle Pietre Dure, il Dipartimento di Chimica dell'Università di Firenze e con il sostegno della Fondazione Friends of Florence e con compartecipazione di Jay Pritzker Foundation, che già aveva sostenuto la prima fase dei lavori; i lavori di restauro si dovrebbero concludere a fine 2023.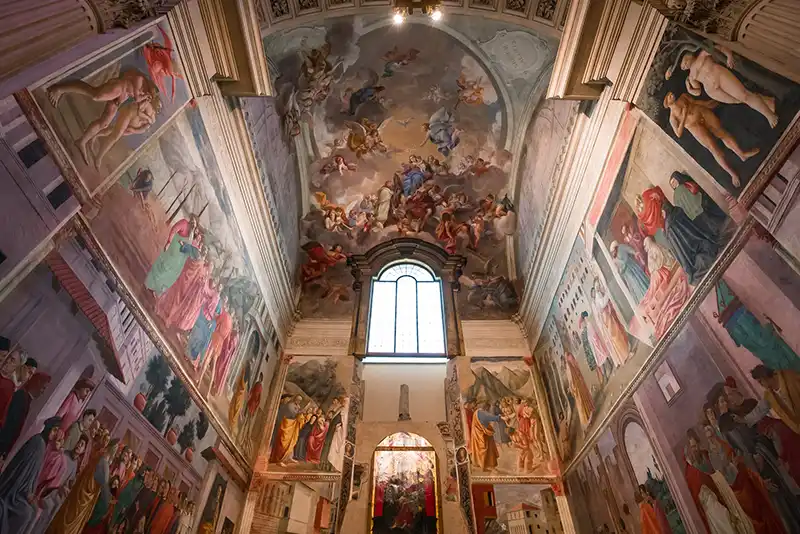 La Cappella Brancacci e la prima fase del restauro nel 2020
La prima fase del restauro ha preso avvio nel novembre del 2020, il monitoraggio ha rivelato molte criticità: sollevamenti, cadute di colore motivo per il quale è stata presa la decisione di portare avanti una seconda fase di restauri.
Durante la prima fase dei lavori è stato istallato un punteggio che ha reso possibile un'importante campagna diagnostica, che ha permesso di portare alla luce le tecniche e materiali utilizzati. Elementi fondamentali per la conservazione futura di uno dei cicli di affreschi più importanti della storia dell'arte italiana.
Un punto di vista differente per i visitatori
Grazie ai ponteggio installati nella prima fase dei lavori è stato possibile far accedere gruppi di visitatori, su prenotazione, un'esperienza unica e affascinante. Un'emozione irripetibile quella di trovarsi a tu per tu con gli affreschi dei più importanti maestri del Rinascimento.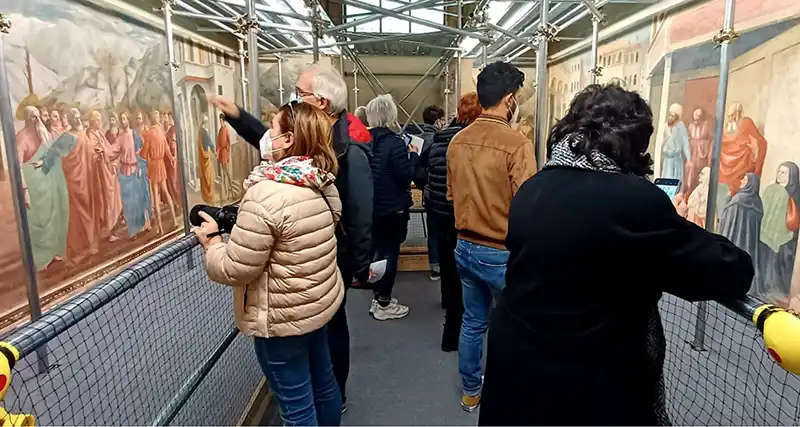 I passaggi del restauro
Alcune porzioni di affresco sono state messe in sicurezza. Sono state analizzate le malte utilizzate nel precedente restauro, avvenuto negli anni Ottanta effettuato da Baldini-Casazza.
Questo permetterà di sperimentare l'applicazione di malte compatibili in modo da poter stabilire il consolidamento delle pozioni a rischio di distacco, in particolare nella parete destra nella scena dei due miracoli intitolate rispettivamente San Pietro che risana lo storpio e il Miracolo di Tabitha, entrambe eseguite da Masolino.
Il nuovo gel per il restauro della Cappella Brancacci
È stato sperimentato un innovativo gel, formulato dai ricercatori del Csgi presso il Dipartimento di Chimica dell'Università di Firenze. Dovrebbe servire a pulire le superfici affrescate senza la necessità di un vero e proprio restauro, questo renderebbe illavoro più semplice e veloce.
Un accordo tra Cnr-Inspc e Comune di Firenze prevede come parte del progetto, il prototipo Brancacci Point of View: una visita della cappella per chi non vi può accedere fisicamente. Un'esperienza ibrida che riesce a donare autenticità alla visita virtuale concedendo ai visitatori di parlare e di avere uno scambio di opinioni.