American Art arriva a Palazzo Strozzi
L'arte americana arriva a Palazzo Strozzi con la mostra American Art 1961-2001 (28 maggio-29 agosto 2021). Nata in collaborazione con il Walker Art Center di Minneapolis, l'esposizione propone 80 opere di 53 artisti per un arco cronologico che va dall'inizio della Guerra del Vietnam fino all'attacco dell'11 settembre 2001. 
Iniziamo con l'Espressionismo astratto di No. 2 di Mark Rothko e con la Sky Cathedral Presence di Louise Nevelson, una installazione in legno dipinto di nero, perché questo colore, ha dichiarato la scultrice, "include tutti i colori ed è il colore più aristocratico. Si può stare in silenzio e contiene tutto".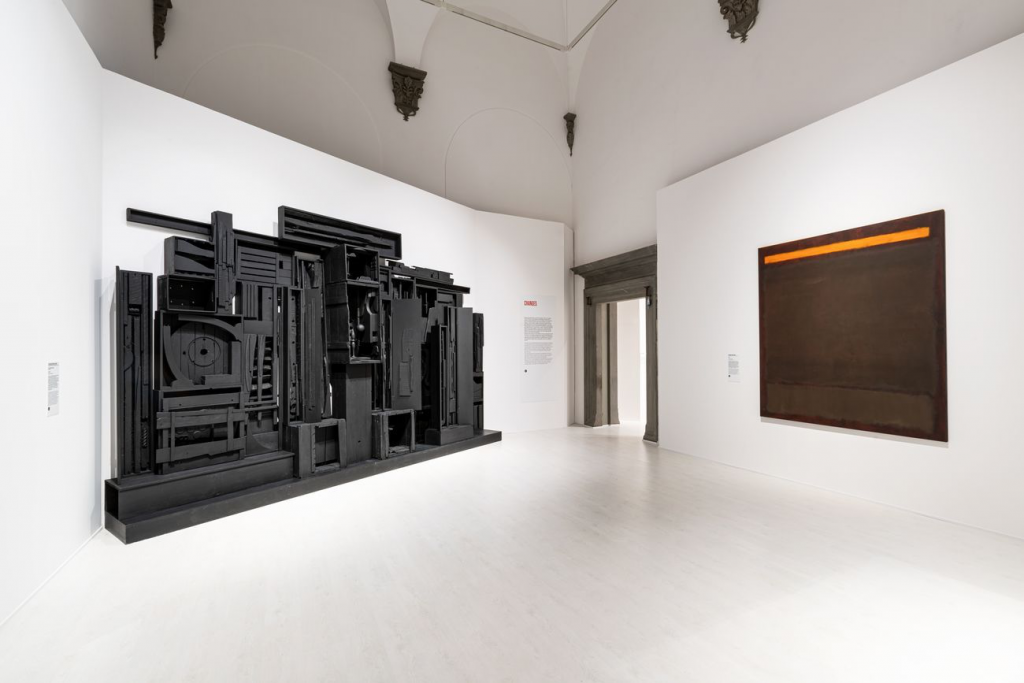 Si passa alla scenografia per "Minutiae" (1954), frutto della collaborazione tra il danzatore e coreografo Merce Cunningham e Robert Rauschenberg. È presente anche la partitura musicale "Music for Piano 1" di John Cage che accompagnava lo spettacolo.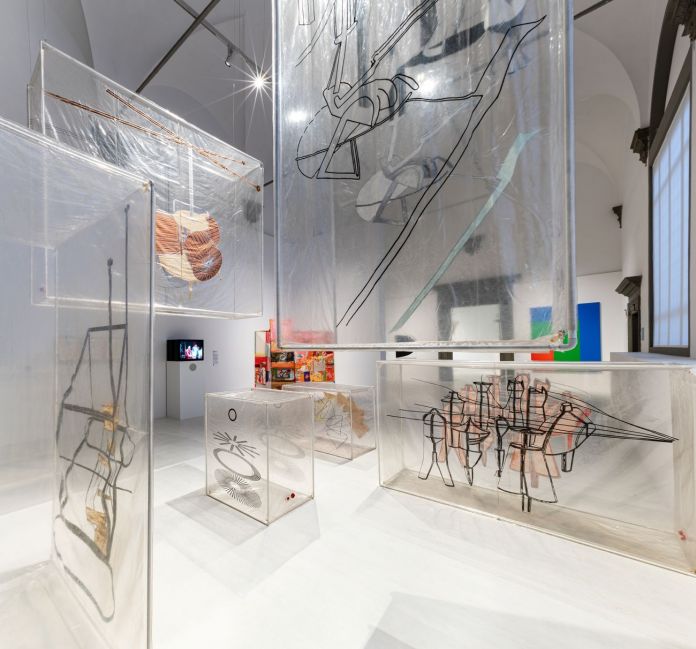 La morte si fa pop nella sala dedicata alla Pop Art dove il doloroso contegno di Jackie Kennedy all'indomani della morte di JFK nella serie Sixteen Jackies (1964) di Andy Warhol dialoga con le french fries di Claes Oldenburg che cadono dal soffitto come corpi morti e con l'opera Eat/Die di Robert Indiana. Mentre il Paperino "strozzato" di Roy Lichtenstein trova un corrispettivo nelle sedie elettriche e nell'autoritratto di Andy Warhol.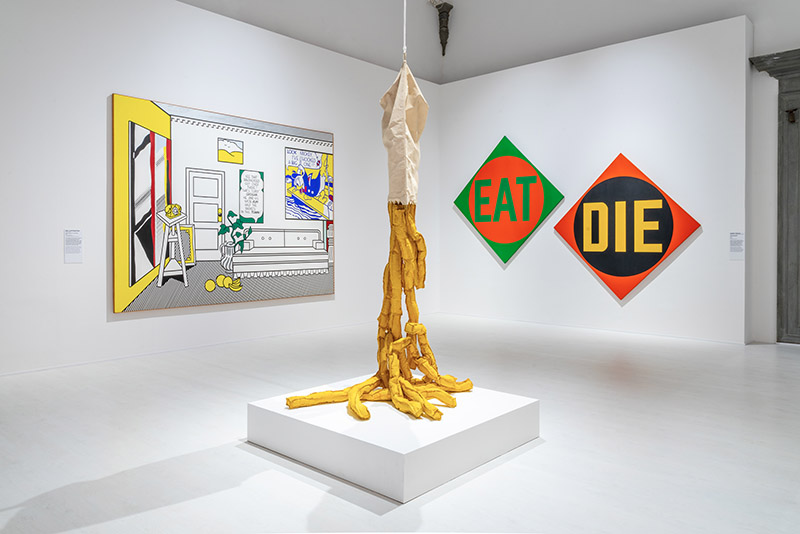 Less is more diventa il motto del Minimalismo qui presente con opere di Sol LeWitt, Carl Andre, Richard Serra, Robert Morris, Donald Judd, Agnes Martin e Anne Truitt. Discutibile la scelta di tralasciare le didascalie in una sala che presenta opere di non facile lettura come questa.
American Art anni Sessanta e Settanta
Giungiamo agli anni Sessanta e Settanta con la video istallazione Art Make-Up dove Bruce Nauman diventa scultura vivente della sua performance.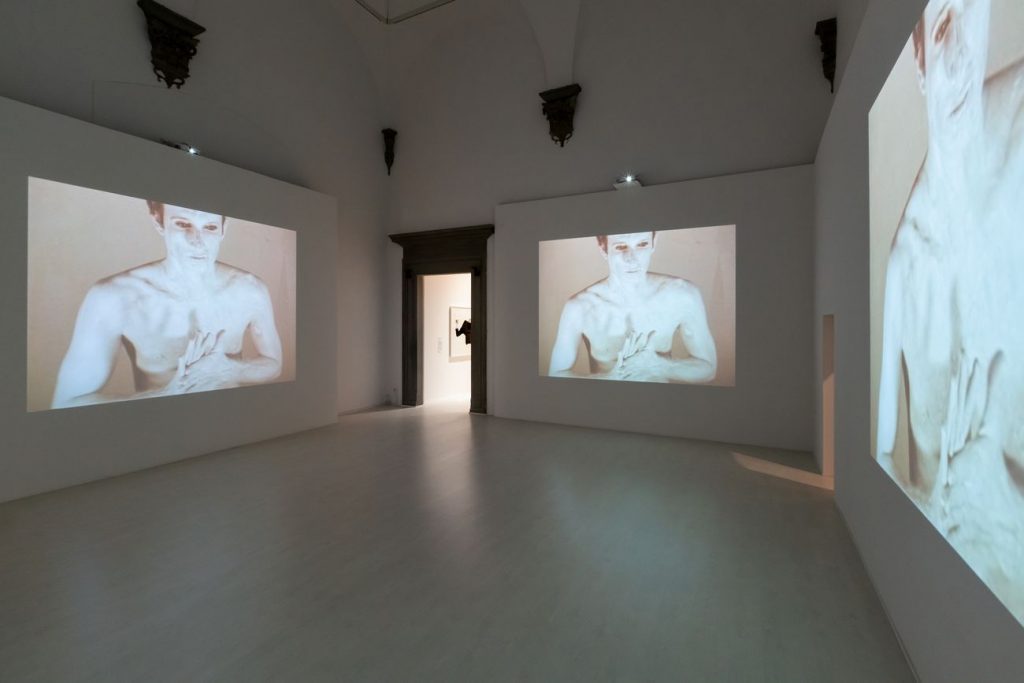 John Baldessari, uno degli artisti concettuali più influenti negli Stati Uniti, chiede ad alcuni giovani artisti di agire al posto suo scrivendo la frase "I will not make any boring art" sulle pareti di uno spazio espositivo. Una forte accusa contro la pittura degli anni Settanta e soprattutto contro l'accademismo delle scuole d'arte che inibiscono i giovani anziché spronarli verso nuove espressioni artistiche.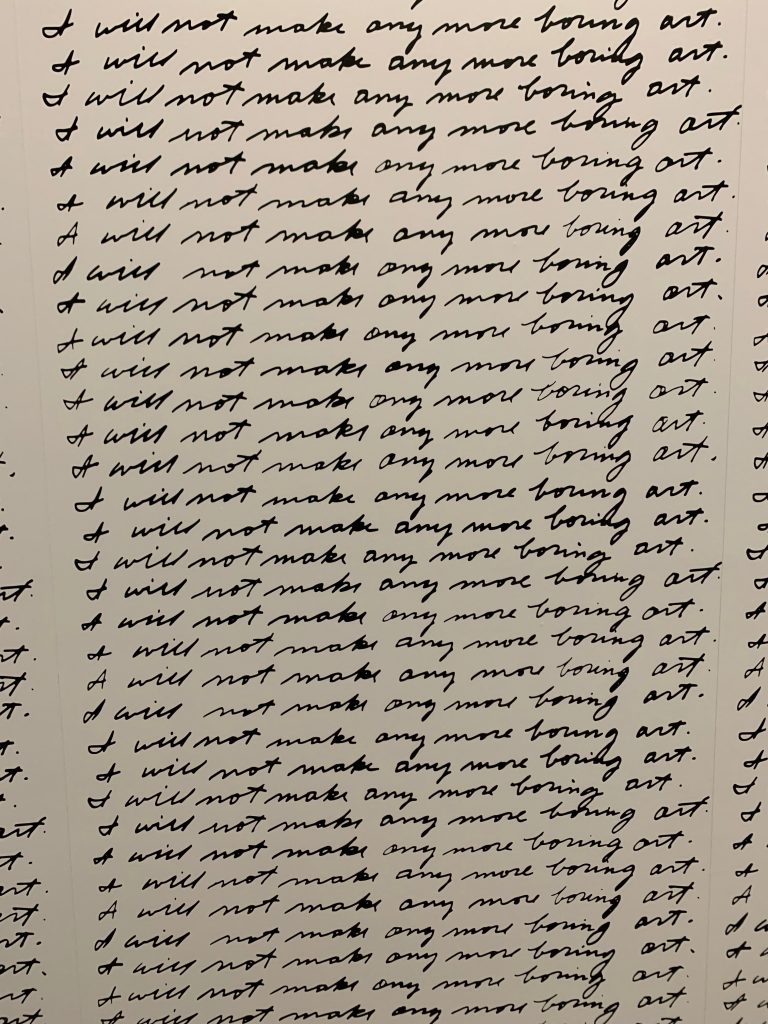 American Art e l'AIDS
Segue la riflessione sulla diffusione dell'AIDS nell'America di Reagan da parte di artisti come Robert Mapplethorpe, Robert Gober e Felix Gonzalez-Torres, quest'ultimo presente con la toccante Untitled (Last Light), un'opera sul dramma della perdita della persona amata.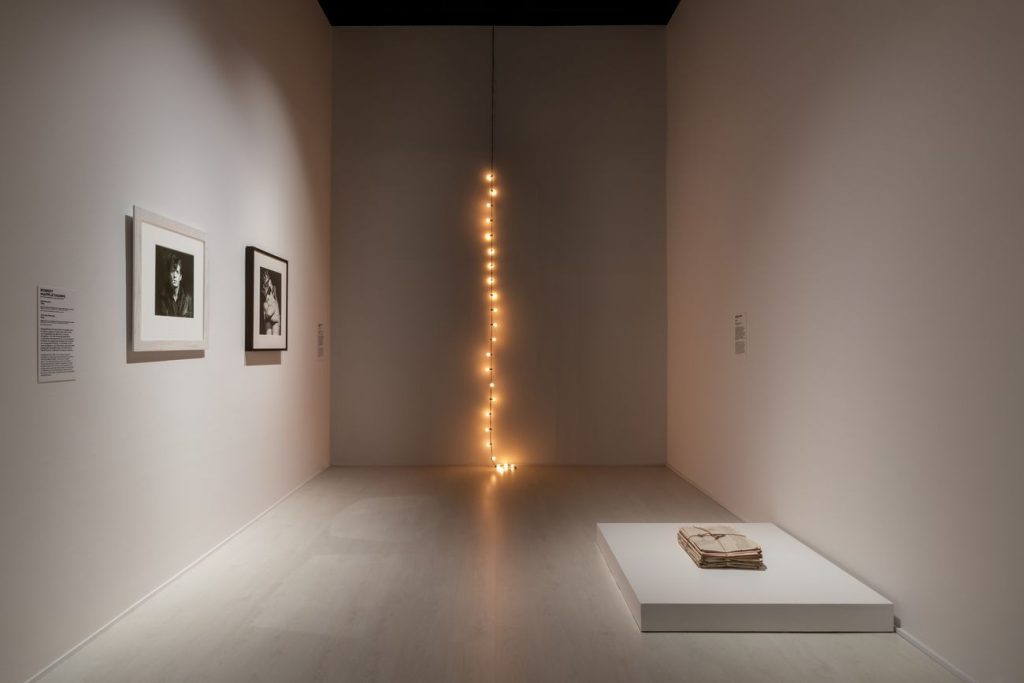 Il file rouge della mostra è il cambiamento. L'arte rappresentando la vita non può essere indifferente alle lotte sociali in corso, come appare evidente nelle successive sale.
Con Cindy Sherman riflettiamo sulla figura strumentalizzata della donna mentre Richard Prince e Barbara Kruger fanno luce sull'uso dei media e del linguaggio pubblicitario.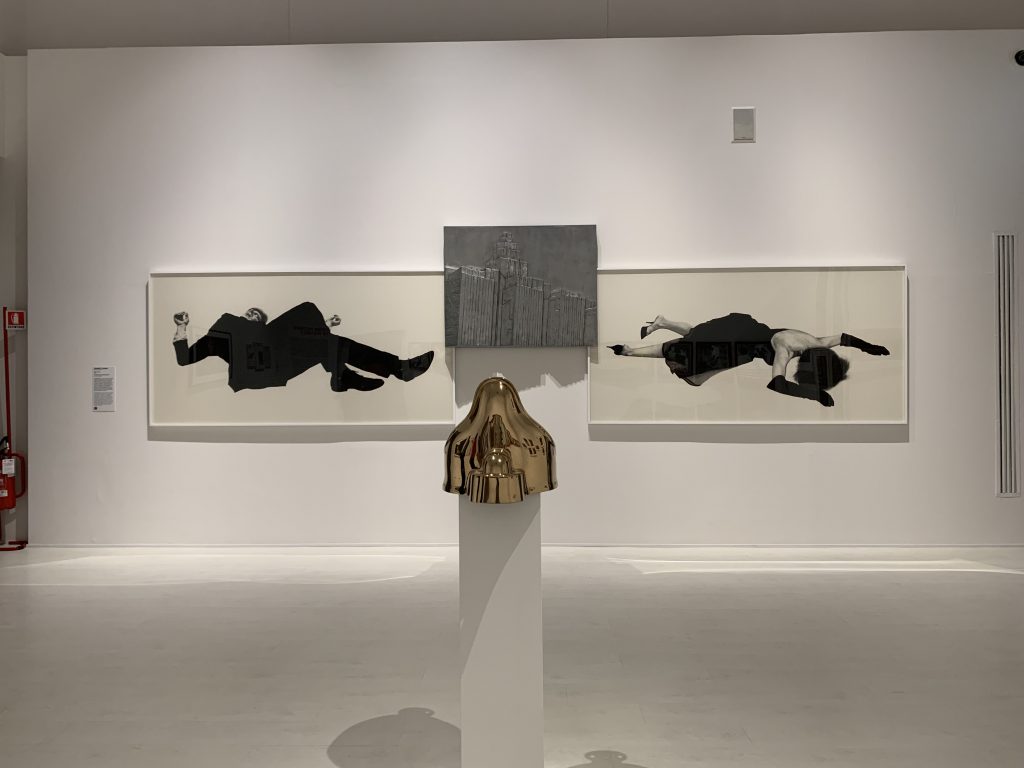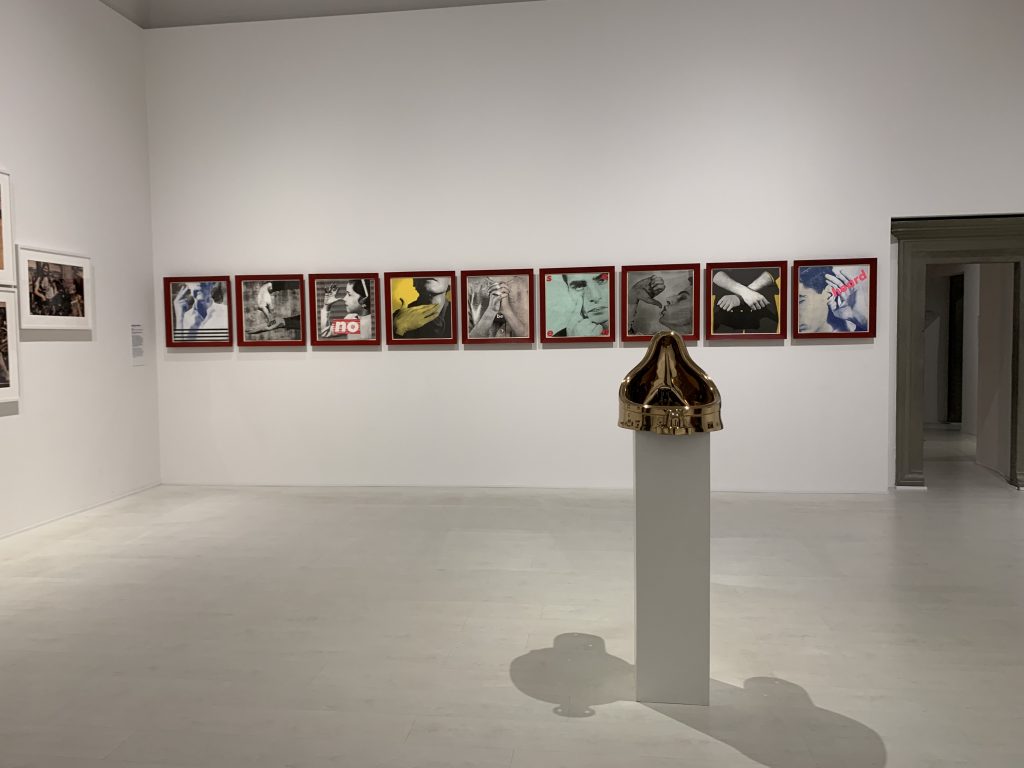 Gli Anni 90 e 2000
Giungiamo così agli anni Novanta e Duemila con un focus dedicato alla comunità LGBT, alla violenza di genere e alla comunità afroamericana.
La serie Domestic di Catherine Opie, che immortala coppie e famiglie lesbiche nelle loro quotidianità in opposizione agli ideali standardizzati di famiglia e amore, dialoga con l'inquietante istallazione di Mike Kelley che ripropone in loop il suono della violenza reale della famosa "scena del burro" del film Ultimo Tango a Parigi di Bernardo Bertolucci.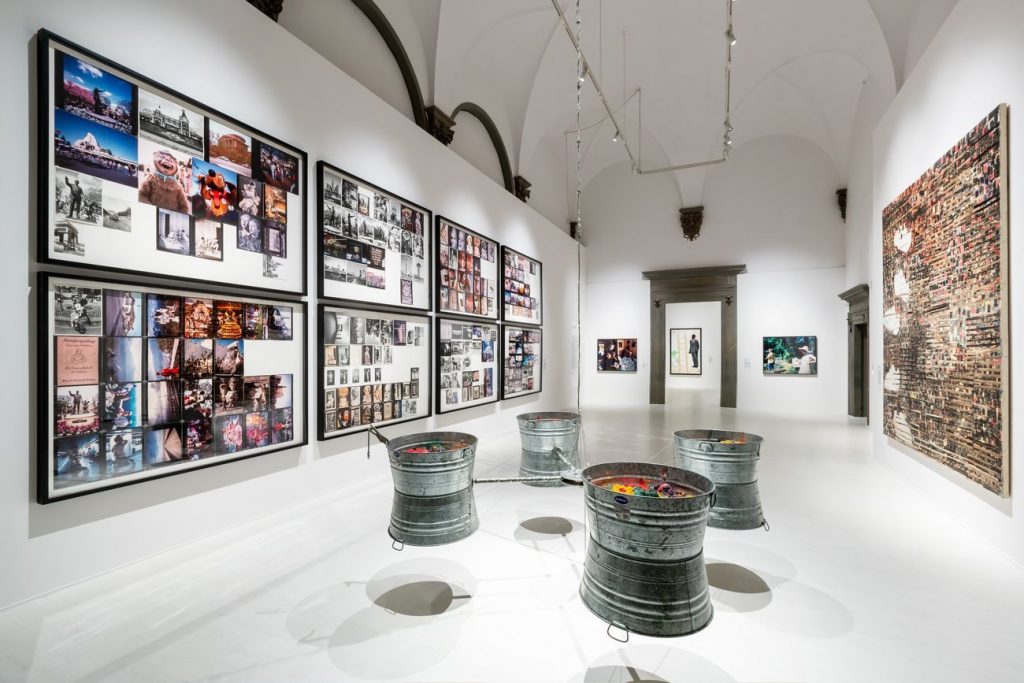 Gli stereotipi e l'identità sono al centro di Wigs di Lorna Simpson, una serie di fotografie di parrucche solitamente indossate dalle donne di colore. Oggetti che legano strettamente un individuo alla propria razza condizionando l'opinione altrui, come recita uno dei cartellini di feltro presenti nell'istallazione: "first impressions are the most lasting what you see is what you get the clothes make the man the leopard does not changes its spots ".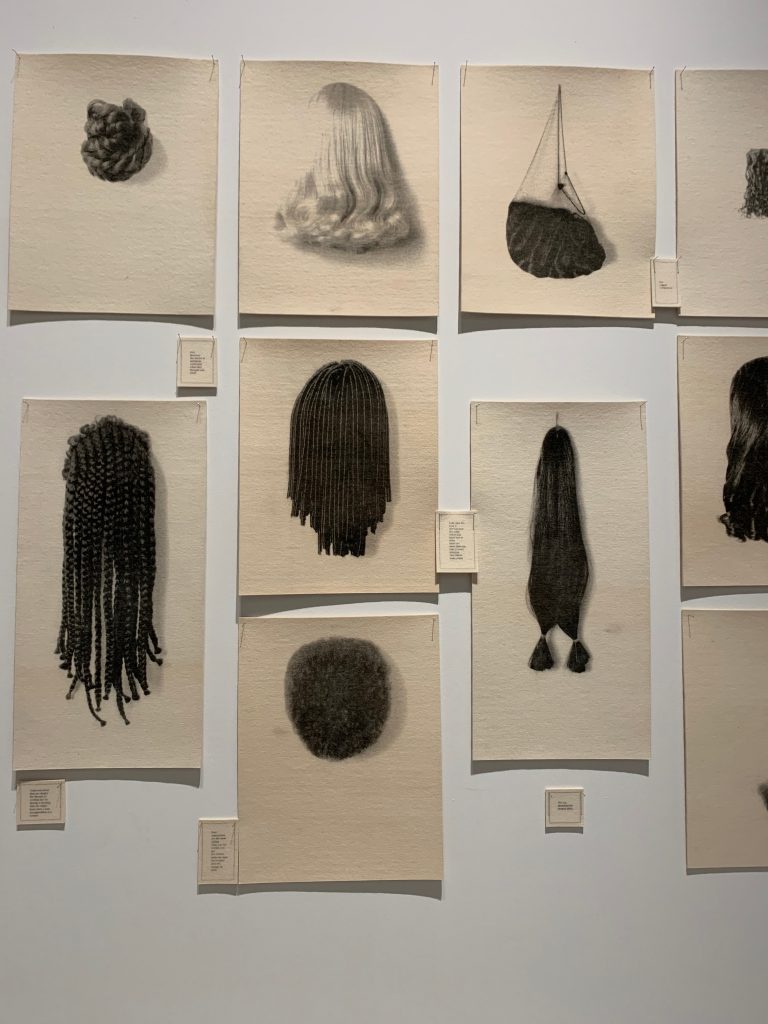 Infine Kara Walker riflette sul suo ruolo di artista afroamericana e più in generale sulla formazione della propria identità nella serie di acquerelli Do you like Creme in your Coffee and Chocolate in your Milk? (1997). Conclude la mostra il corto realizzato con i suoi celebri tableaux di sagome di carta nera intagliata dal titolo Testimony: Narrative of a Negress Burdened by Good Intentions. Silhouette dal gusto vittoriano e dai tratti stereotipati invertono la storia delle violenze subite dagli afroamericani: questa volta a subire le atrocità perpetuate nei secoli sono i bianchi.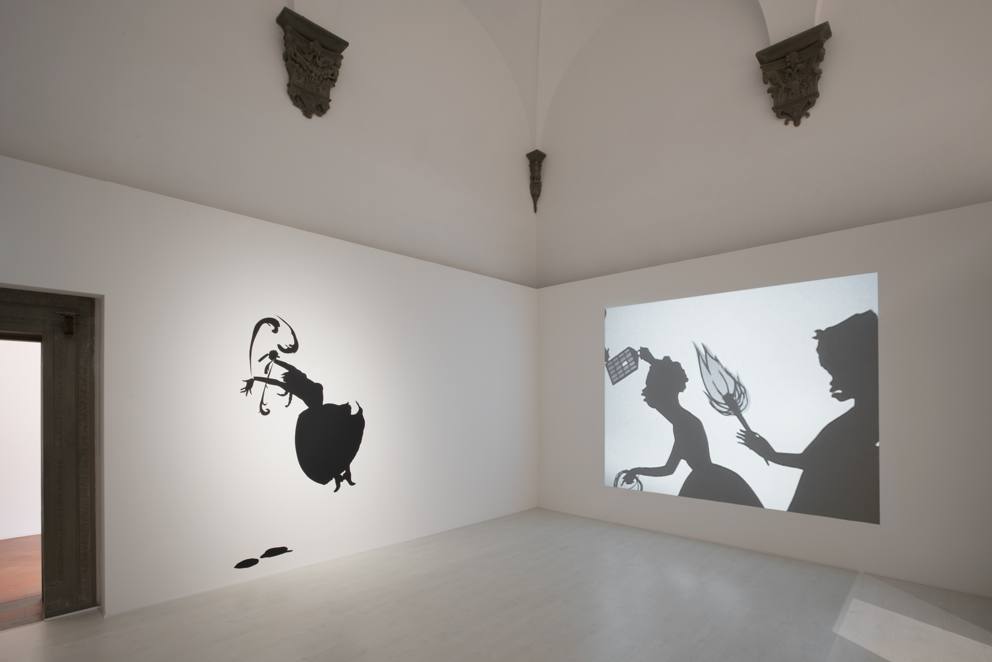 American Art 1961-2001 non potrà certo lasciarvi indifferenti.