Banksy, lo street artis più famoso al mondo, dona 50 opere in beneficenza per il popolo Ucraino. In collaborazione con l'ente di beneficienza internazionale Legacy of War Foundation.
Banksy annuncia la vendita tramite un post sui social
Attraverso un post sul proprio profilo social, Banksy annuncia di aver realizzato delle opere, con una tiratura limitata, destinate ad aiutare il popolo ucraino.
Quali sono le opere venderà per l'Ucraina?
Si tratta di 50 screenprint il cui ricavato sarà devoluto alle vittime del popolo ucraino.
"In Ucraina ho visto una squadra di Legacy of War entrare e fornire assistenza medica, riscaldamento, acqua e un volto amichevole ad alcune persone molto disperate in un edificio bombardato. Mi hanno anche prestato una delle loro ambulanze da cui lavorare, che si è trasformata si è rivelata estremamente utile quando una babushka arrabbiata mi ha trovato a dipingere sul suo edificio e ha chiamato la polizia. Sento che il minimo che dovrei fare è raccogliere abbastanza soldi per sostituire le targhe dell'ambulanza che ho utilizzato"
racconta Banksy.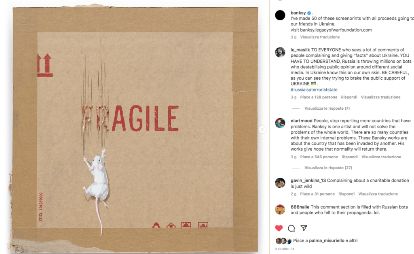 Banksy per il Sociale
Il writer inglese creerà 50 screenprint. l'artista inglese attaccherà ogni stampa con un taglia-pizza affilato, ogni opera sarà unica e differente dalle altre. L'artista ha scelto di coprire tutti i costi di produzione e realizzazione di ogni singola opera.
I collaboratori di Legacy of War Foundation spiegano "tutti i proventi della vendita andranno a finanziare le forniture per il nostro team nella zona di conflitto in Ucraina".
Le opere di Banksy per l'Ucraina saranno a edizione limitata
Ogni opera, creata per il popolo ucraino dallo street artist inglese ,è firmata e numerata. L'edizione è di 50 e il costo è di 5000 sterline tasse escluse. Le stampe sono confezionate e incorniciate. Per diventare possessori dell'opera di Banksy è necessario registrarsi al sito Legacy of War Foundation, c'è tempo fino a venerdì 16. I pochi fortunati che potranno acquistare l'opera riceveranno un'email con le direttive su come finalizzare l'acquisto.
"Ho fatto 50 di questi screenprint e tutti i proventi andranno in Ucraina"
spiega fiero Bansky di aver preso parte agli aiuti per un paese martoriato dalla guerra.
Ma chi è Banksy?
L'identità di Banksy è avvolta nel mistero, poiché l'artista preferisce rimanere anonimo. La sua arte si caratterizza per l'uso di stencil e graffiti, spesso con contenuti politici o sociali. Lo street artist inglese ha guadagnato popolarità negli anni 2000 grazie alle sue opere di street art che appaiono improvvisamente su muri e superfici urbane in tutto il mondo.
Le sue opere affrontano temi come la guerra, la povertà, la politica e la libertà. Alcune delle sue opere più famose includono la ragazza con il palloncino rosso e il graffiti di Winston Churchill con un mazzo di fiori. Le opere di Banksy hanno raggiunto prezzi elevati sul mercato dell'arte, ma l'artista continua a operare nell'anonimato.