Andy Warhol (1928 -1987) lo conosciamo tutti. Figura predominante della Pop Art, è stato uno degli artisti più influenti del ventesimo secolo, spaziando dalla pittura al cinema, dalla scultura alla sceneggiatura.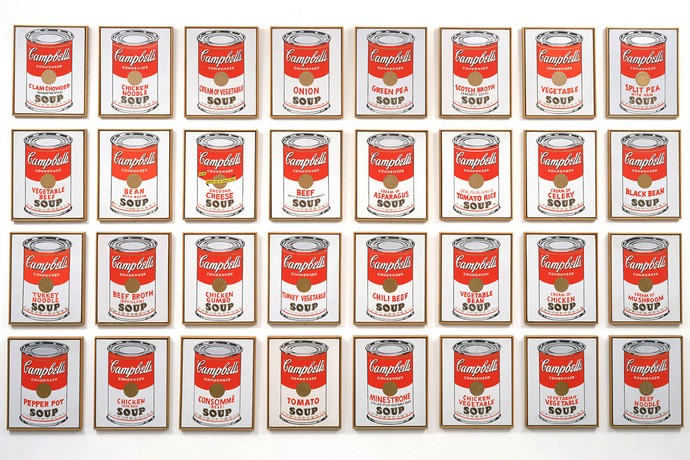 Non tutti però sanno che nel 1959, prima delle Campbell's Soup Cans (1962) e della Coca-Cola (1960), Andy Warhol ha realizzato un libro di cucina dal titolo Wild Raspberrie in collaborazione con l'arredatrice Suzie Frankfurt.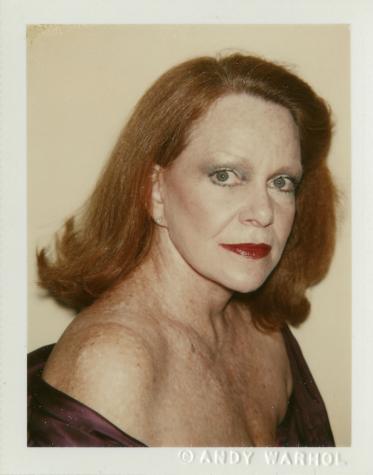 A funny cookbook for people who don't cook
Beh… ovviamente non si tratta di una raccolta di ricette convenzionale… tanto che l'artista lo ha definito "a funny cookbook for people who don't cook", come racconta lo stesso Andy: 
"We had to write a funny cookbook for people who don't cook. My mother, who was a hostess sine qua non, deemed the most important thing for a new bride was to be a good hostess. I wanted to emulate my mother, of course, and it was the year all these French cookbooks came out. I tried to make sense of them. 'Make a béchamel sauce,' they'd say. I didn't even know what that was".
Sono gli anni 50 e a New York andava di moda la cucina francese, pensiamo a Julia Child, la cuoca dilettante che ha insegnato a cucinare agli americani.
Andy decise dunque di realizzare un divertente libro di cucina coinvolgendo la sua famiglia e i suoi amici.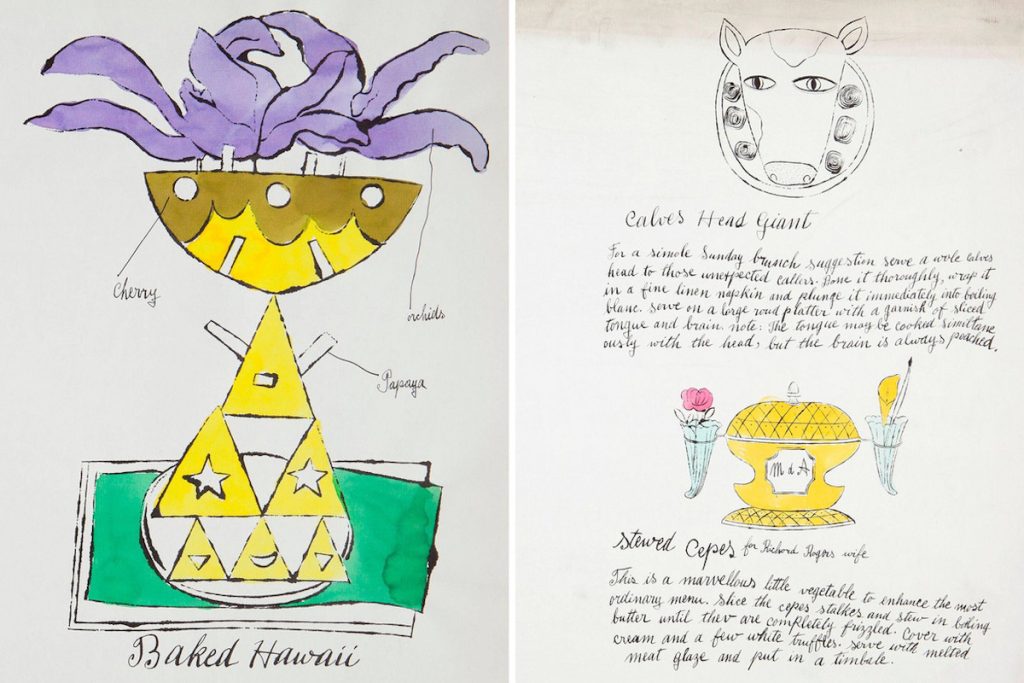 La collaborazione fra testi e illustrazioni
Frankfurt ha inventato i testi, Warhol ha illustrato le ricette con 19 disegni, sua madre Julia si è occupata della calligrafia e quattro ragazzi che vivevano nel suo palazzo hanno colorato i libri.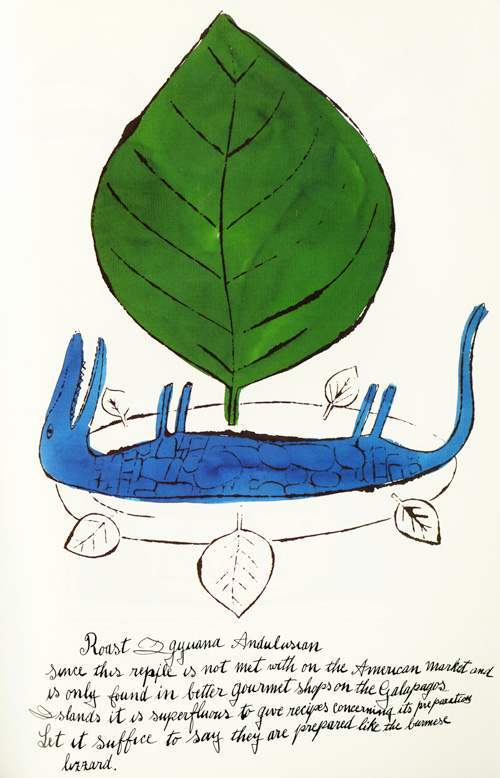 Sono solo 34 i libri conclusi, molti dei quali regalati agli amici più stretti, e adesso battuti all'asta per una cifra stimata tra i 30.000 $ e i 50.000 $, a seguito del casuale ritrovamento da parte del figlio di Suzie nella soffitta di famiglia.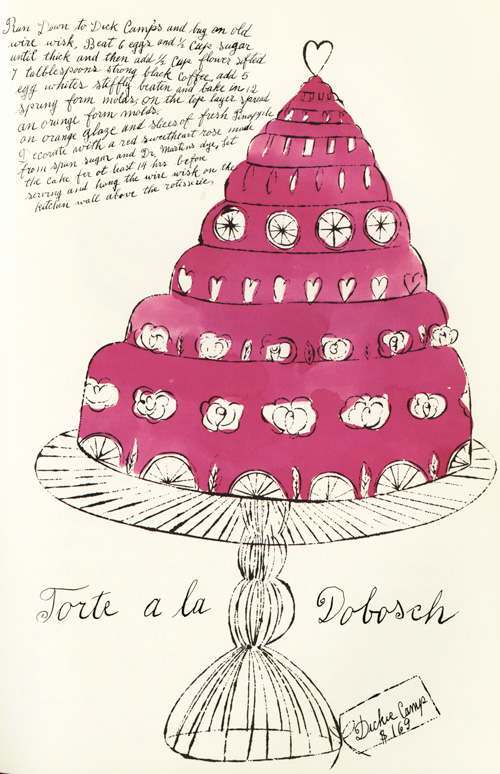 Il libro si presenta come una divertente parodia dell'alta cucina francese. Troviamo difatti ricette come "Omlet Greta Garbo", "da mangiare sempre da soli in una stanza a lume di candela". 
"Gefilte di Fighting Fish", la cui ricetta recita: "immerge  i pesci in acqua di mare e lasciali combattere finché non si disossano completamente l'un l'altro. Prendere i filetti, sfumare con il vino bianco e servire leggermente freddo".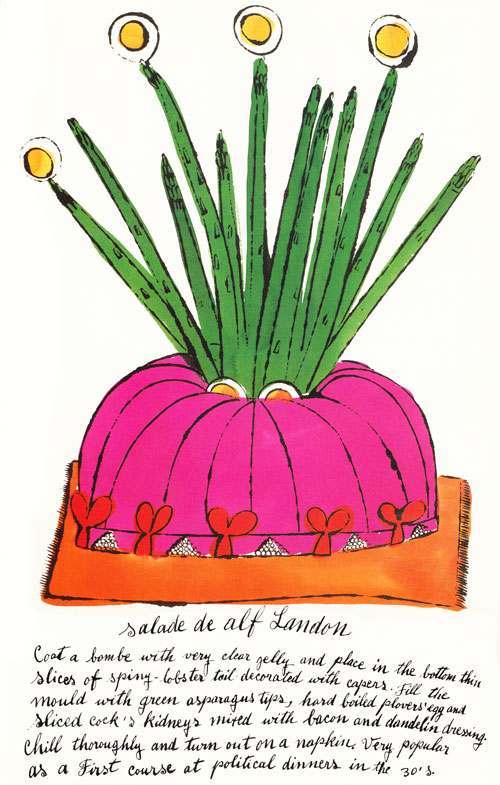 Mentre per il "Capriolo scottato" è consigliato di scegliere un "capriolo ucciso durante un agguato", "infinitamente meglio del capriolo ucciso dopo un inseguimento".
Insomma, un libro in pieno stile Warhol!
Bon appétit!